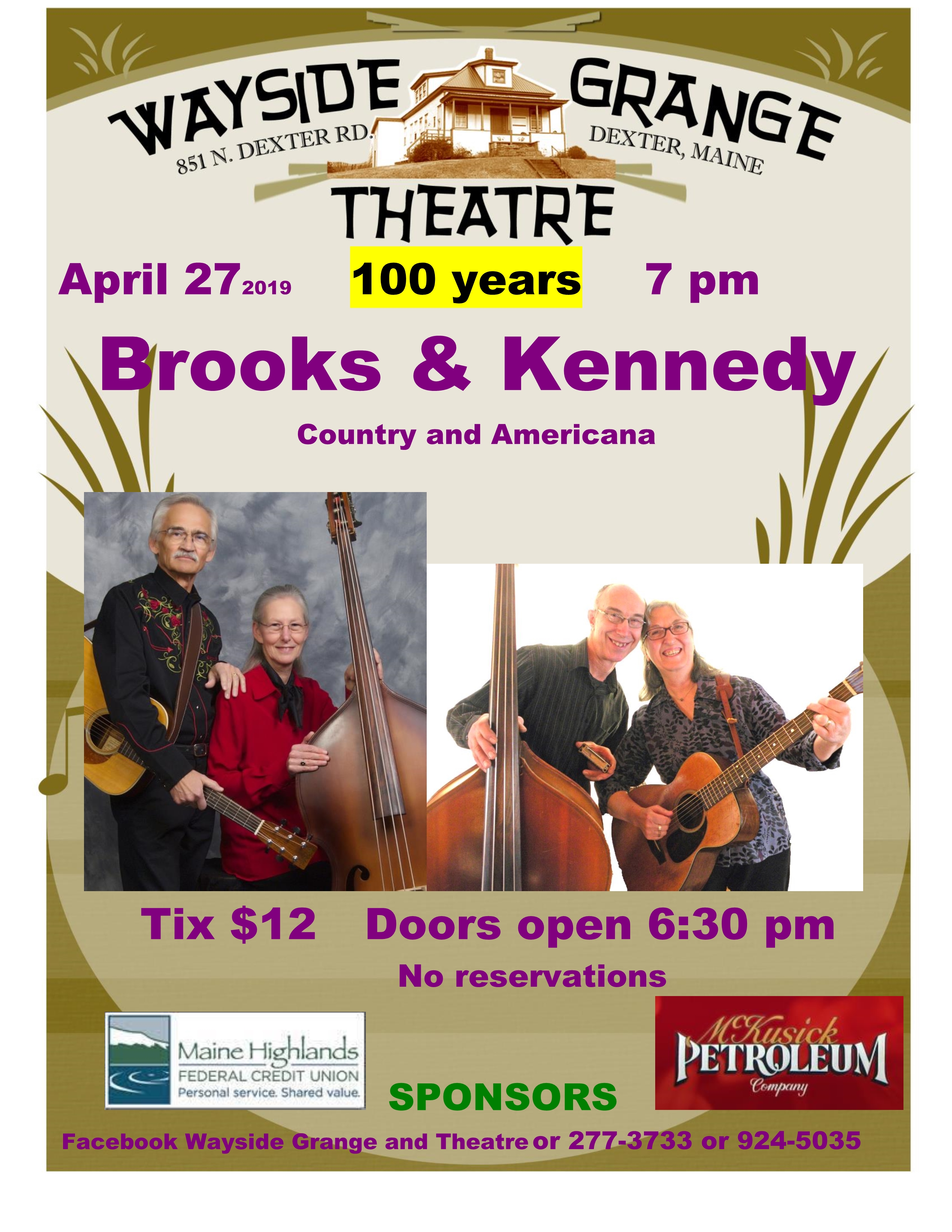 Brooks & Kennedy, featuring Ken and Jane Brooks and Joe and Nellie Kennedy, will perform classic country and Evergreen-style Americana music at the Wayside Grange Theatre on Saturday, April 27 at 7 pm. This is the first show for the 2019 concert series and the 7th year of an ongoing concert series.
Tickets are $12. There are no reservations. Doors open at 6:30. Baked goodies and pretty good coffee sold at intermission. There is a door prize and 50/50 raffle. The hall offers real comfy theater seating, excellent lighting and sound, ample parking and a friendly staff of Grangers.
These award-winning musical friends have played acoustic Americana for over 30 years, both as fellow band members and informally. Together, they're a fine vintage of that sweet harmony of instruments, vocals and friendship.
In the late 1980's Ken, Joe and Nell performed together as Breakneck Mountain – a five piece bluegrass band that released the recording "Company's Comin'". Later, guitarist Ken performed, toured and recorded with Bluegrass Supply Company, Union River Band and his current band Katahdin Valley Boys. Ken was inducted into the Maine Country Music Hall of Fame in 2012. That same year, Ken and bass player Jane Brooks were named Maine Country Music Association's Duo of the year. Jane will be inducted into the Maine Country Music Hall of Fame in May 2019. Ken currently chairs the Maine Country Music Hall of Fame & Museum board of directors and Jane serves as historian and induction committee member.
Nellie Kennedy, who plays bass, guitar and mandolin, performed and recorded with the Misty Mountaineers for about twelve years. Harmonica-playing Joe Kennedy performed and recorded with Bluegrass Supply Company in the early 1980s. The Kennedys promoted the Breakneck Mountain Bluegrass Festival in Washington County from 1984 to 1995. In 1992, they joined Evergreen and spent the next 23 years performing throughout New England and recording five CDs. The Kennedys serve on the board of directors of the Bluegrass Music Association of Maine. Joe is also on the board of directors for the MCMHOF and Museum. Joe and Nellie were inducted into the Maine Country Music Hall of Fame in 2014.
This popular and local Wayside Theatre house band is an annual favorite. You can expect a quality show that is well rehearsed and entertaining that features interesting song selections and arrangements, close harmony singing and well executed instrumental backup and breaks. CDs will be available to purchase.