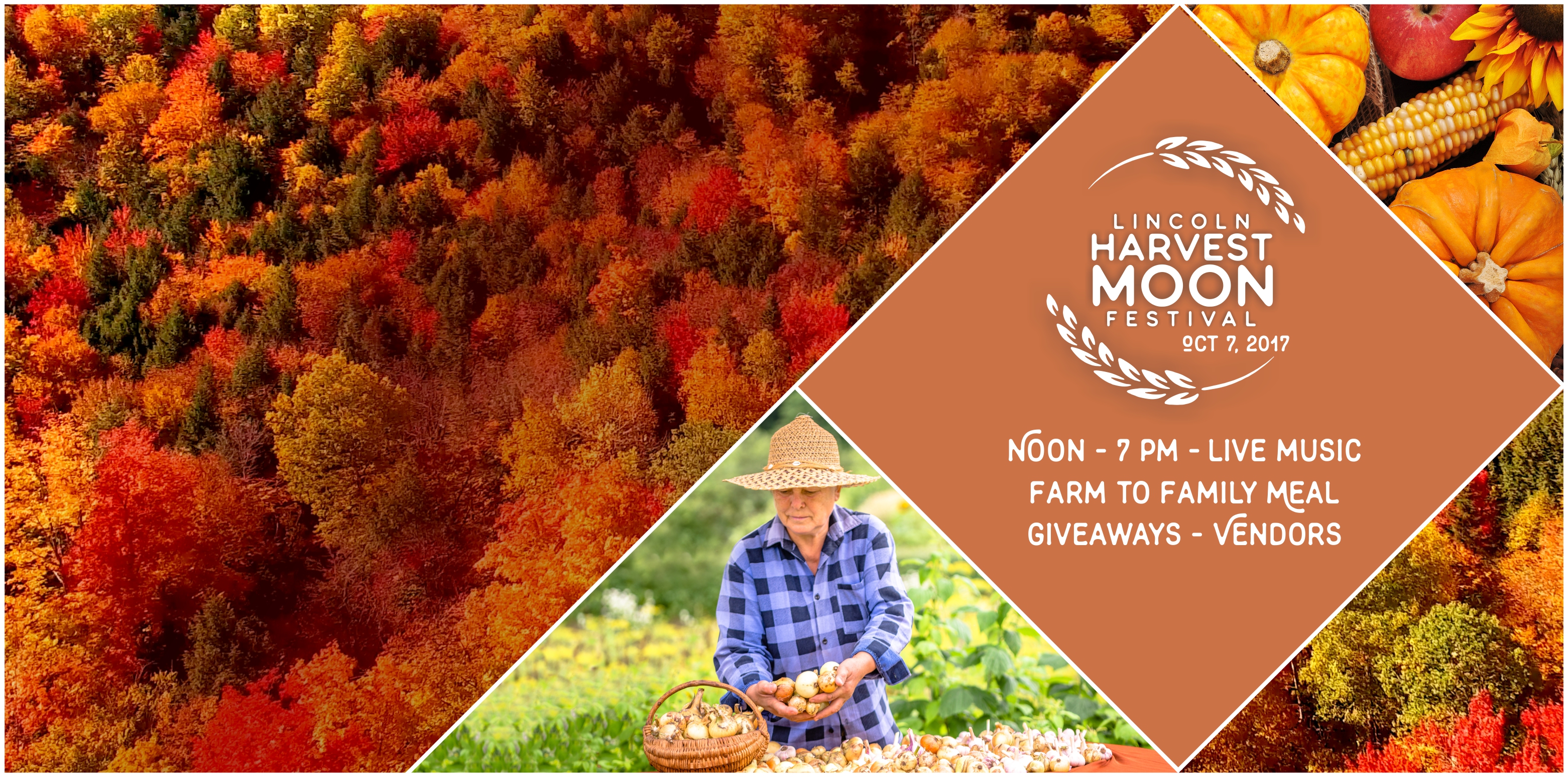 The Town of Lincoln's Events and Tourism Committee is pleased to announce the second annual Harvest Moon Festival, Saturday, September 29, 2018. Festival events will be located throughout the town, with the Harvest Moon Festival Dinner to take place at the Lincoln Regional Airport.
This festival kicks off with a Cruise In at Dysart's Travel Stop on West Broadway Friday evening at 5:0pm. The Cruise-In will feature entertainment by "Jessi Mallory as Elvis" performing at 5:30 pm.
On Saturday the Harvest Moon Festival 5K Fun Run/Walk starts at 9 am at Mattanawcook Academy. There will also be a Children's fun race. There will be artisan vendors at Veterans Square during the day from 10 am – 3 pm.
Visitors can enjoy free pontoon boat rides around Mattanawcook Pond from 1- 3 pm, and there will be children's activities from 12-3 pm at Prince Thomas Park.
The Harvest Moon Festival Dinner will be held at the hangar of the Lincoln Regional Airport starting at 4:30 pm. Tickets are $15 for adults, $10 for Veterans and Seniors and $6 for children under 10. This will be a sit-down dinner. The menu features, Prime Rib marinated in Geaghan's IPA along with a side of flavorful Aujus, Herb Roasted Seasonal Vegetables, Zucchini Salad tossed with a flavorful Herbed Olive Oil Dressing, Homemade Bead, out of this world Bread Pudding with Vanilla Ice Cream, and homemade Apple Cider all locally sourced.Menu for children under 10 years of age: Homemade Macaroni and Cheese / Hot Dogs. The meal will be prepared by Chef Herman Ammerman,Cheyenne Libby, Elizabeth Savage, Angela Belk and committee members.
The Geaghan Brothers Brewing Company will be offering complimentary taste pairings during the dinner, with after-dinner entertainment by the Ryan Carter Band. It will be an evening of delicious Maine-sourced food, and great live music for the entire family.
To order your Harvest Moon Festival Dinner tickets online please use this link https://www.eventbrite.com/e/farm-to-family-dinner-tickets-49201989475
To sign up for the Harvest Moon Festival Fun Run/ Walk use this link. Registration for Harvest Moon Festival 5K Fun Run/Walk http://5K https://www.eventbrite.com/e/lincolns-harvest-moon-festival-5k-runwalk-with-free-kids-fun-run-tickets-49369024080