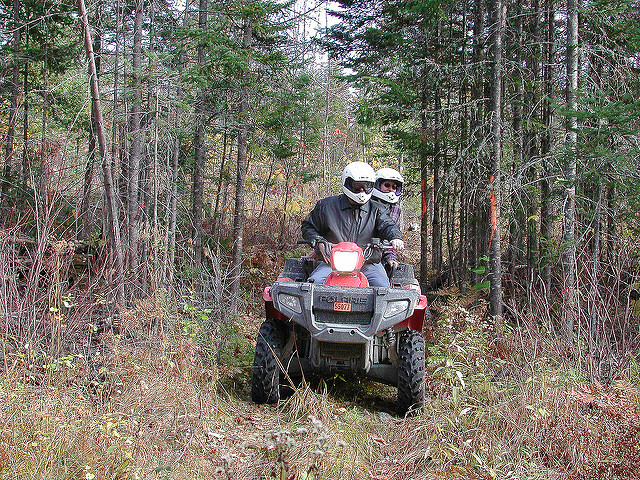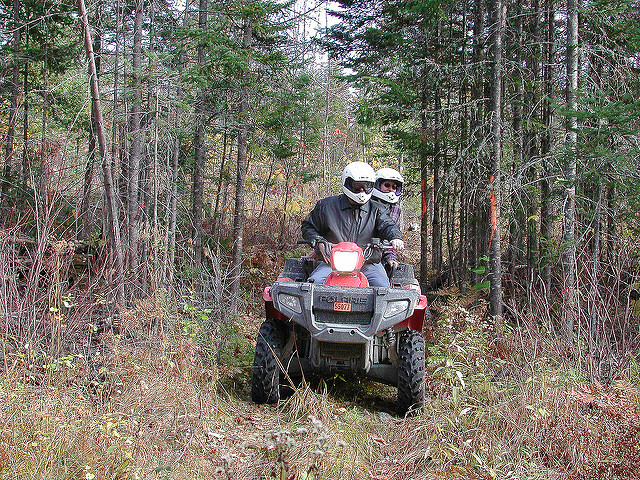 ATV Adventure
Maine has 6,000 miles--and growing--of designated ATV trails with the longest interconnected ATV trail system in the country, presenting endless day-long and multi-day excursions. These are some of the best multi-use trails in the entire country. Rent a cabin or campsite and ride right from your door. Or start here and ride all the way to Canada!
Interconnected Trail System (ITS) trails may be used for ATV's in warm months and snowmobiles fro mid-December until Spring. Many publicly- and privately-owned multi-use trails and reserved public lands also allow off-road vehicles.
Several locations between the Moosehead, Lincoln, and Katahdin regions offer rentals and guided tours. Lodges provide accommodations, food and drink, fuel, and supplies. Here are some trail ideas...
Frequently Asked Questions
Q: My ATV is registered in another state. Do I have to register it in Maine?
A: Yes. All ATVs are required to be registered in Maine to be operated here. You can register online at Maine.gov/ifw.
Q: Are helmets required?
A: Yes. Everyone under the age of 18, including passengers, must wear a helmet by law. However, everyone is encouraged to wear one. Safety first!
Q: How can I tell if a trail is a designated ATV trail?
A: It will have either the Trail ID or the Trail Blazer, which are green and white ATV signs with the ATV symbol. If ATV use is allowed on a road, it will be marked with a shared use sign.
Q: What is the fine for riding on private land without permission?
A: Up to $500 plus the potential loss of licenses and registrations issued by the Department of Inland Fisheries and Wildlife. If you are riding on cropland, pastureland, or an orchard and are not on a designated ATV trail, you need to have written permission from the landowner.
If you'd like a copy of the state ATV trail map, call 1-888-386-3288 and they'll mail one to you. The Maine Highlands also has a Regional Recreation Map & Guide that we will gladly mail to you, or you can contact the Chamber of Commerce or CVB where you will be riding and they can assist you. Our members are listed below:
Greater Bangor Convention and Visitors Bureau
(207) 947-5205
www.VisitBangorMaine.com
Katahdin Area Chamber of Commerce in Millinocket
(207) 723-4443
www.KatahdinMaine.com
Lincoln Lakes Regional Chamber of Commerce
(207) 794-8065
www.LincolnMEChamber.org
Moosehead Lake Chamber of Commerce in Greenville
(207) 695-2702
www.MooseheadLake.org
Sebasticook Valley Chamber of Commerce in Palmyra
(207) 368-4698
www.OurChamber.org
Piscataquis Chamber of Commerce in Dover-Foxcroft
(207) 564-7533
www.PiscataquisChamber.com
---