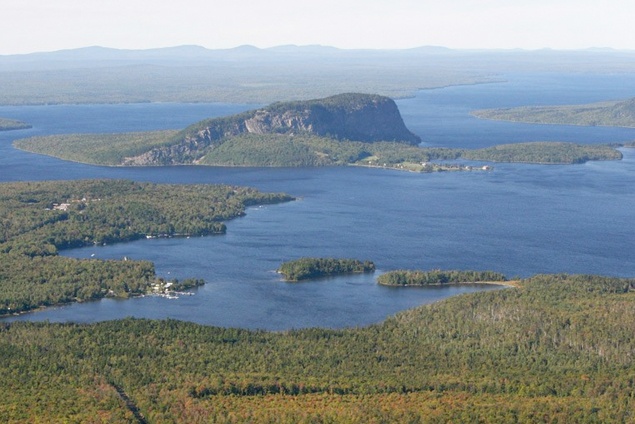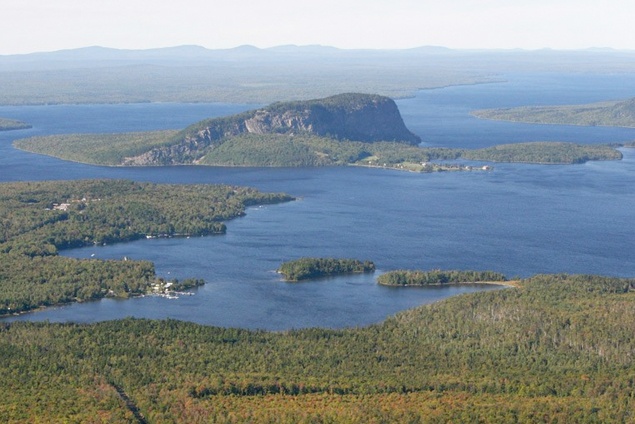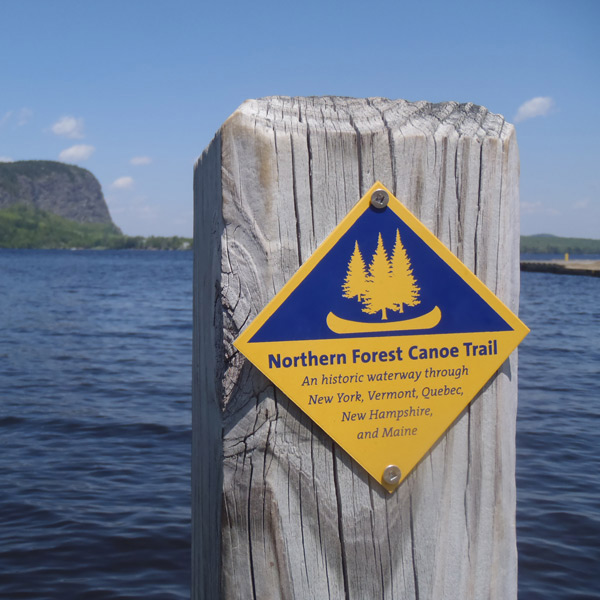 Mount Kineo
The prospect of driving or biking through obscure, unique and sometimes downright quirky towns in Maine, has always been something I look forward to when planning any outdoor trip. Late spring is a good time of year to take that out-of-the-way, 'back route' you've been considering. The one that doesn't make any practical sense to reach your destination, but may make every bit of sense if you're trying to make your entire trip (not just the backcountry portion) one of exploration.
I love the back routes and side roads. Last weekend, while on our way to Mount Kineo, we passed through the town of Abbot. It proudly claims to be "Maine's Number One Town." We saw a Harley Davidson-clad scarecrow and his petticoat-wearing wife guarding a small vegetable garden outside of Palmyra. And we seriously considered taking up one Mainer on his offer to purchase "half-a-canoe for half price." It was a handsome, half-a-canoe and a practical deal.
Upon reaching Greenville in Piscataquis County, a celebrated town known as the gateway for outdoor recreation, I stopped to purchase a gallon of water from the local Indian Hill Shop N' Save. From the outside, the store looked like any other Maine grocer. There was stacked firewood for sale at the entrance, a parking lot overwhelmed with ATVs, (whole) canoes on trucks and community dinner posters taped to the grocery store doors. Inside, it was clear the Shop N' Save was more than just groceries. It was a hybrid shop - a curious Maine mix between a generic grocery store, L.L. BEAN and Reny's. I walked in searching for water, and exited thinking about the guns, ammo, Keen shoes, bathing suits, tents and shot glasses I could have purchased.
Mount Kineo. I'll be honest, when my friend first suggested taking the boat over to Mount Kineo about 20 miles west of Greenville, I balked at the idea of spending my Saturday on a golf course. After a late start to the weekend, we decided to stay at Lily Bay State Park. We were looking for a last minute, short day hike in the area. Mount Kineo made sense, but nothing about 'tee box' or 'club house' screamed adventure to me. Clearly, I had a lot to learn about Mount Kineo.
In a nutshell:
Breathtaking views: 360 degree views at the summit, thanks to an old fire tower that was converted into a viewing platform 19 years ago. You'll be gripping the rails on the way up and down, but the view from the top is worth the precarious climb.
Adrenaline-rush boat ride across Moosehead Lake: I grew up paddling on the coast. I'm used to high swells and rough seas, so I was surprised to find myself gripping the seat as our small pontoon ferry made its way across from the Rockwood boat launch to Mount Kineo. Moosehead Lake is 118 square miles wide and 40 miles in length, which creates a large fetch that produces extremely choppy waters and whitecaps when the winds are strong.
Easy to summit: Easy, like you could wear jeans to the top easy. There are two trails to the summit. The longer and more gradual Bridle Trail. And the steeper, cliff-walking Indian Head Trail. Both are well marked and exceptionally accessible. Mount Kineo is a hike just as appropriate for grandma as it is for the grandkids.
Golf: A well-maintained golf course sits at the base of Mount Kineo's staggering 800-foot cliffs - if you're into that sort of thing.
Compelling history: Mount Kineo has the largest known deposit of rhyolite in North America, which made it the premier destination for early natives who used the rock to make arrowheads and tools. This geological formation was also a destination for Henry David Thoreau and Teddy Roosevelt.
In the end, I got it. Mount Kineo is more than just a golf course or tourist trap. It's a rare and accessible outdoor destination that embodies much of what Maine has to offer - beautiful views of our lakes and mountains, year-round activities, hiking, paddling, lush trails, and a striking history.
Editor's Notes
Greenville is located on the southern end of Moosehead Lake, the largest lake in Maine. Visitors can board a Katahdin Cruise in Greenville to explore this lake and pass directly under Mt. Kineo's 800-foot cliffs. Also chosen as the About.com 2012 winner for best fall foliage in New England, Greenville is known for its small-town charm.
Located in Maine's north woods, Mt. Kineo is a majestic peninsula on Moosehead Lake with 800-foot cliffs. The well-maintained trails provide stunning views and serve as the perfect picnic setting.
Mt. Kineo Golf Course was originally built in the 1800s and is the second oldest in New England - but it's been very well kept. With the golf course's spectacular location on Moosehead Lake, and Mt. Kineo rising 1,789 feet above its shore, visitors are in for a superior and serene experience.
Lily Bay State Park is a 925-acre state park located on the eastern shore of Moosehead Lake, just 10 miles north of Greenville. Known for providing peaceful and private camping on lakefront sites, Lily Bay is a great place to stay. And there's always plenty to do. The park offers year-round activities including two boat launches and a beach that's accessible, but not overly crowed. There's also a 1-mile trail that runs along the shore of Moosehead Lake. This easy, scenic hike is perfect for families looking to experience Maine's unbeatable outdoor scene.
---