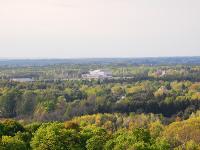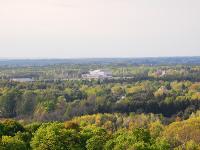 Thomas Hill Standpipe
The Thomas Hill Standpipe is Bangor's most visible national historic landmark, that is still in use today. It was built in 1897 to help provide sufficient water pressure to the city and to store water in case of a major fire.
The landmark was designed a firm in Massachusetts and was assembled in 1897. The shell is 110 feet high and 85 feet in diameter, with a 38 foot high flag pole at the top.
With benches on the 12-foot wide and 280-foot circumference promenade, the standpipe beckoned visitors year-round to climb its interior stairs to the deck to take in the beautiful view. Although the standpipe is no longer open year-round, the Bangor Water District opens it once every season for people to climb the wooden staircase around the tank and take in the magnificent view from the promenade deck.
---