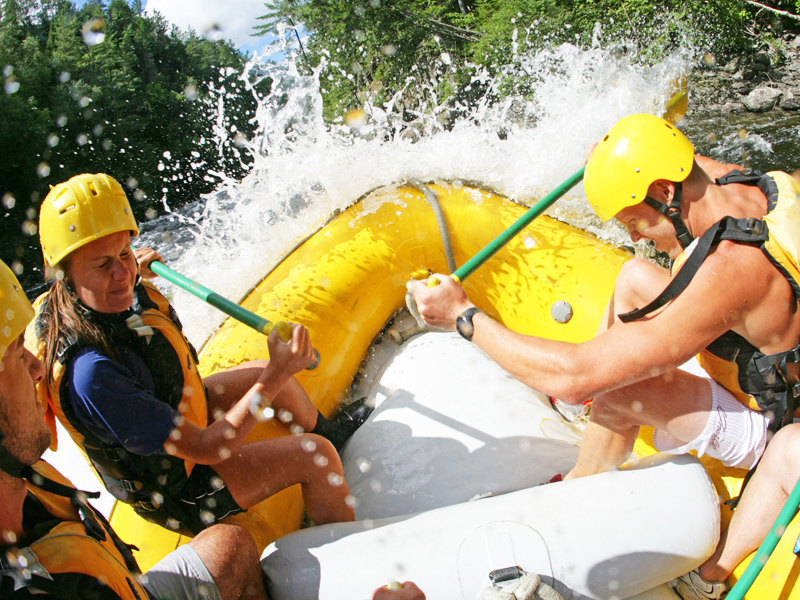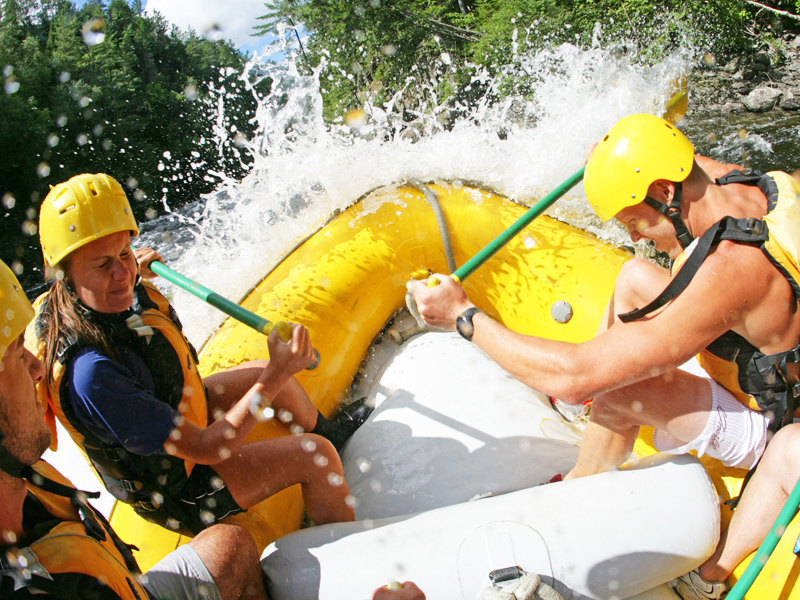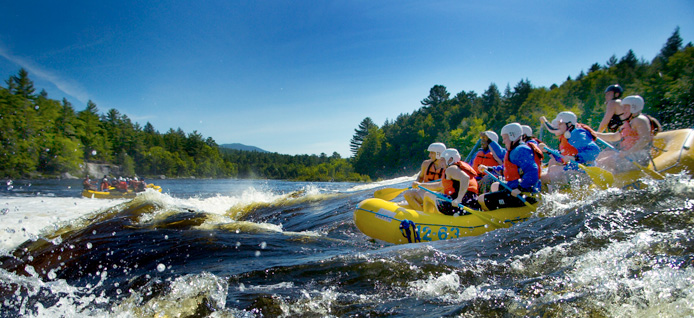 Whitewater Rafting
Challenge yourself with an exciting whitewater adventure!
The Maine Highlands is home to many whitewater rafting companies that provide professional guides for your trip. All guides have attended whitewater guide training schools and must be certified and registered through the State of Maine. All rafters go through a safety orientation and all transportation and equipment is furnished, ensuring you a fun and safe whitewater adventure.
Experience the West Branch of the Penobscot River, one of the most technical rivers to raft in the United States. With class IV and V whitewater, this river provides exciting descents from McKay Stateion to Pockwockamus Falls, through the class V Ripogenus Gorge and Cribworks. This trip is 14 miles long and you are guaranteed the thrill of your life.
Booked your trip already? Congratulations! You're going to have a ton of fun! Your guide will go over lots of information with you on the big day, including the proper way to hold your paddle, the best way to sit in the boat, and what to do if you fall out. But there are some other things you should know before you take off on your white water adventure. We've listed some information here for you so you're ready to take on the river!
Choose your trip wisely
The rafting companies in Maine will have an age limit for their various trips. Be sure to check the age requirements before you book, especially if you have paddlers under the age of 16. Some trips are perfect for families with children, some are not. Typically the lower the class of rapids, the more suited the trip is for younger people. Most of the Maine trips are on Class III, IV, and V rapids.
Wear proper clothing
Ever hear of the expression "cotton kills"? Cotton pulls heat away from your body. The water in Maine is cold (we like to refer to it as refreshing) even in the summertime. To stay warm and resist hypothermia (especially during May rafting trips) wear synthetic materials and opt for a wet suit. Your rafting service will most likely have suits you can rent. It's a good idea. You'll also want to pack a change of clothes to slip into after your trip. A ride home in soggy shorts is never a pleasant experience!
Leave valuables behind
You do NOT want to lose your valuable jewelry on a white water rafting trip. Leave your wedding and engagement rings, as well as those heirloom pearl earrings your grandmother gave you, someplace safe. If you want to wear sunglasses, bring along a cheap pair that you don't mind losing. One good wave can rip them off of your face!
Lather up
Make sure you apply water resistant sunscreen before your trip. Even if you're wearing long sleeves, your neck and face need to be protected from the sun's rays. Light reflects off of the water, so even if the sun isn't blazing, it can still hurt you.
You'll probably be sore the next day
Rafting burns calories – about 300 per hour on a wild trip. If you're not used to paddling, your arms, stomach, shoulders, and back may be pretty sore the day after your trip. Make sure you drink lots of water and stretch your muscles before and after your trip.
For More Information on local rafting companies:
www.MooseheadLake.org
www.KatahdinMaine.com
---