Explore Maine State Parks, Woods & Waters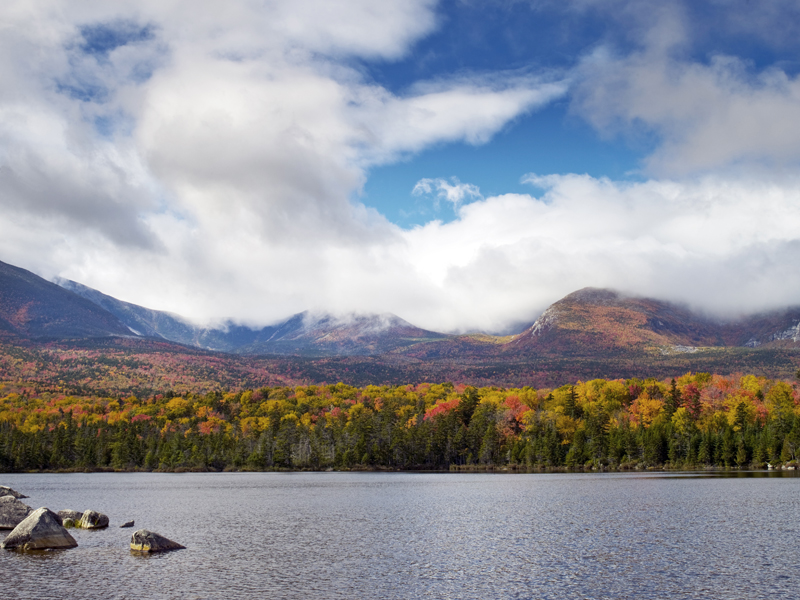 Baxter State Park The vast Baxter State Park is the legacy of former Maine Governor Percival P. Baxter, who donated the park's first land, including Mount Katahdin, under the condition that it be kept forever wild. Today, visitors can hike 2015 miles of trails, camp at one of 337 campsites, or explore 210,000 acres of wilderness. The Appalachian Trail famously terminates at Baxter Peak on Katahdin. The park offers opportunities for all types of outdoor adventure year-round, including hiking, paddling, backcountry camping, rock climbing, cross country skiing, snowshoeing, fishing, and hunting and trapping (in designated areas). The park is famous for its wildlife; bears, moose, eagles, and deer abound.
All visitors must register. Fees apply for day use and camping. Camping is rustic, with natural water sources and outhouses. Camping reservations are required.
More info at baxterstatepark.org
Mount Kineo State Park This park is located on a large peninsula on the eastern shore of Moosehead Lake. A prominent feature is Mount Kineo; its sheer face rises straight out of the water, forming 700-foot cliffs. A steep but short hike to the old fire tower at the summit provides an excellent panoramic vista. Three primitive campsites offer private lakefront camping, and an old carriage road forms an easy loop trail around the perimeter of the peninsula. Outside of the park you'll find New England's second-oldest golf course with 9 regulation holes.
The park can only be reached by water, with a public launch in Rockwood. Experienced paddlers will find the 3-mile trip to be very doable. IN the summer, a ferry is available from Rockwood.
Day use fees apply. Remote campsites are first-come, first-served.
More info at maine.gov/mountkineo
Lily Bay State Park This public recreation area is on the southeast shore of Moosehead Lake. Lily Bay is a great spot for year-round day use and family camping; two campgrounds offer wooded and lakeside campsites for tents and RVs, showers, playgrounds, picnic areas, swimming beaches, hiking, mountain biking, paddling, motorized boating, and fishing on Moosehead Lake. In winter, the park's trails may be used for skiing, snowshoeing, and snowmobiling.
Day use fees apply. Camping reservations are strongly encouraged.
More info at maine.gov/lilybay
Peaks-Kenney State Park This park is located on Sebec Lake in Dover-Foxcroft. Ten miles of gentle hiking trails, a sandy beach, and a lakeside campground are the perfect setting for family camping, wildlife watching, boating, fishing, swimming, hoking, and picnicking. In winter, visitors may snowshoe or cross country ski.
Day use fees apply. Camping reservations are strongly encouraged. Canoes and kayaks may be rented.
More info at maine.gov/peaks-kenney
Katahdin Woods and Waters National Monument This area is made of up 87,563 acres of untouched wilderness that is open year-round for canoeing, kayaking, hiking, bird watching, fishing, cross-country skiing, mountain biking, snowshoeing, snowmobiling (on designated trails), and hunting (in designated areas).
The monument begins about an hour north of Bangor and is accessed by the Woods and Waters Scenic Byway (Route 11) and a 14-mile scenic loop road (closed in the winter). There are currently no facilities in the monument. Welcome centers in Millinocket and at the Lumbermen's Museum in Patten provide visitor information and maps.
There is no entrance fee. Primitive campsites and lean-tos are available on a first-come, first-served basis.
More info at nps.gov/kaww
Ki Jo-Mary Multiple Use Forest This area is also called The North Maine Woods. It's a privately-owned commercial forest located between Millinocket, Greenville, and Brownville. It's 175,000 acres encompass a network of well-maintained dirt roads, over 30 miles of the Appalachian Trail, the Gulf Hagas Reserve, the Katahdin Iron Woks historic site, numerous rustic and remote campsites, more than 50 lakes and ponds, and over 100 miles of brooks, streams, and rivers.
This area is a sustainably-managed working forest, with active logging operations taking place at all times. Outdoor recreation is managed by a consortium of landowners. Fees apply for day use and camping. Permits may be purchased at checkpoints upon entering the forest. Make sure to bring cash.
More info at northmainewoods.com