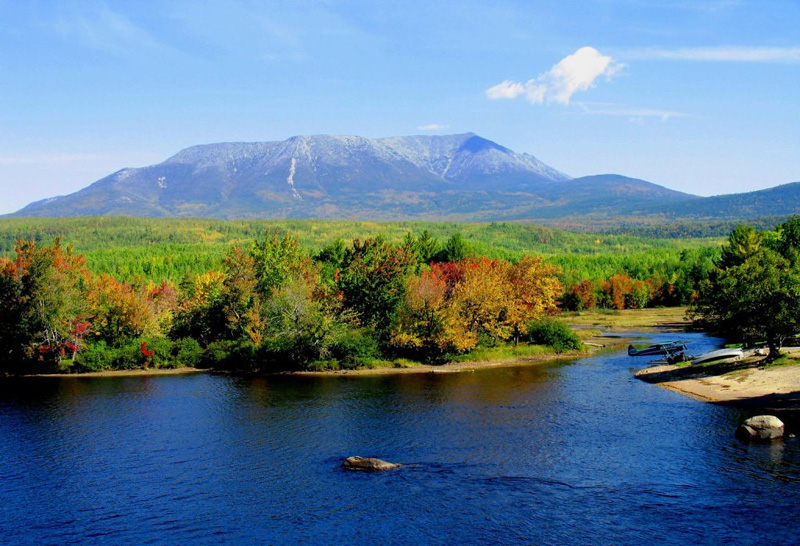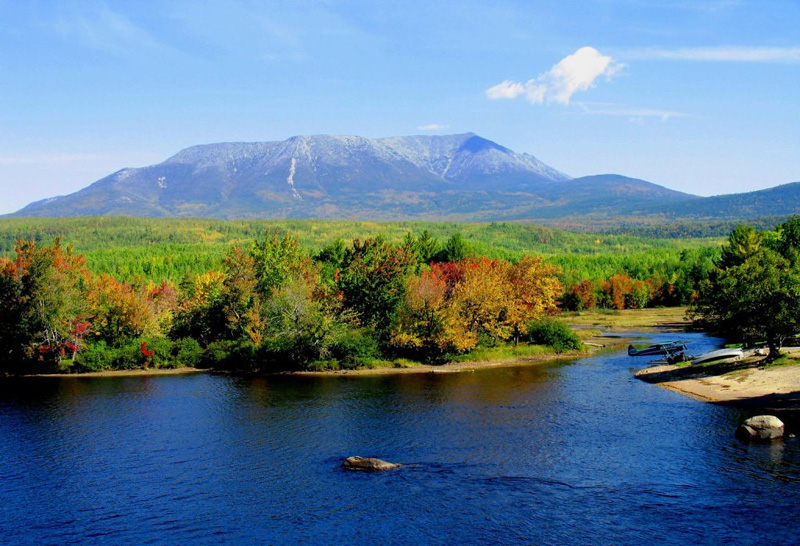 Katahdin Area
Come visit a truly unique all season vacation destination, located off the beaten path in Maine. The Katahdin Area is one of the best kept secrets in all of New England. Home of Baxter State Park, this region offers exciting wilderness adventures no matter what time of year you visit.
The history of the Katahdin Region is older than the state of Maine itself. For centuries, the Penobscot Tribes hunted and fished this land in harmony with the seasons. The first colonial settlers arrived in the mid-1700's, establishing frontier outposts along the major rivers in the area. Lumber was the driving force behind much of the development of the state in the 19th century. The seemingly endless forest was of enormous value to an expanding America and mills, foundries and other subsidiary industries soon developed in the wake of the logging boom, helping the area towns flourish. Henry David Thoreau's journey through the Katahdin Area in 1846, 1853 and 1857 were the inspiration for his revered expeditionary journals, which offer a memorable portrait of a robust industrial and agrarian economy emerging at that time on the doorstep of the wilderness.
Today, the Katahdin Area provides fantastic individual and family experiences for wildlife and wilderness enthusiasts. At the northern end of the Appalachian Trail sits Mount Katahdin, the state's highest point at 5,267 feet and is the queen of Baxter State Park. The park alone covers more than 200,000 acres of mountains, lakes, streams, and forests, offering great opportunities for canoeists and kayakers. Wildlife observers get the chance to see deer, moose, and black bears, so come prepared!
Many area businesses operate to serve visitors to the area. Whether you're into white water rafting, hiking, camping, fishing, foliage viewing, hunting or just on a day trip to the area, the Katahdin Area offers a wide range of activities and accommodations. For snowmobilers, the Katahdin Region offers some of the greatest scenery and trail conditions of any place in the State of Maine with hundreds of miles of groomed trails interconnecting with the ITS trail system.
The Katahdin Area is host to many annual events and celebrations: Wooden Arts/Canoe Festival in the summer, the fourth of July celebration in the summer and the Trails End Festival in the fall, which is a weeklong festival celebrating the heritage and natural resources of the Katahdin Region at the Northern End of the Appalachian Trail.
Only one hour from Bangor and three and a half hours from Portland, the Katahdin region is closer than you think.
To learn more, download theDiscover Katahdin app.
---