Fishing Maine Lakes, Ponds & Streams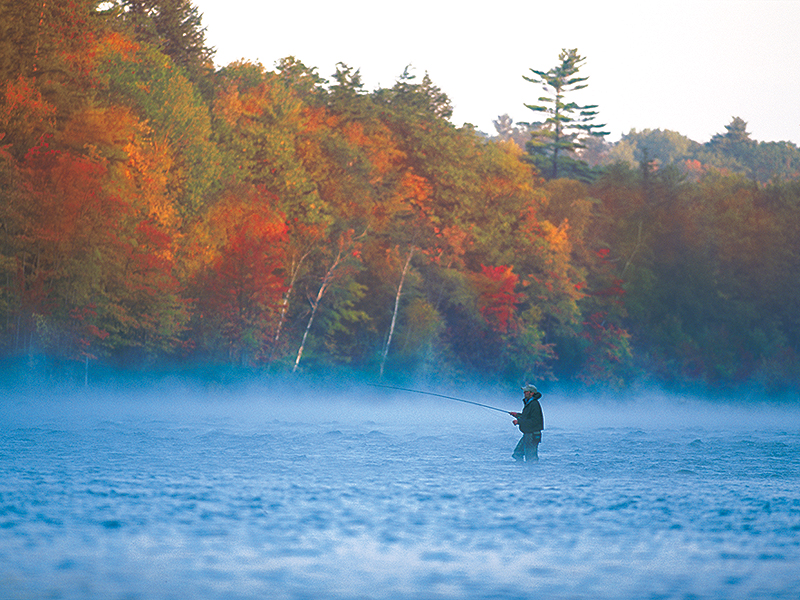 There are many different fishing experiences that you can have in The Maine Highland region. Lakes and streams boasting several species of fish spot our landscape by the dozens. Be sure that you are prepared, have a valid fishing license and are up to date on the State of Maine fishing regulations. Here is some more information on what is available by region:
Katahdin Region – The Katahdin Region's lakes and streams are teaming with bass, salmon, lake trout, brook trout, splake, perch and pickerel. Landlocked salmon make the Penobscot River a prime fishing location and if you're looking for brook trout, be sure to bring your rod to any of our brooks or streams and get ready to cast away! Any of the area lakes are accessible by boat or canoe and if you need assistance in finding the right spot to catch that trophy bass, be sure to contact one of our many local guide services to help your dream come true.
Lincoln Lakes Region – The Lincoln Lakes region has many varities of fish waiting for you, from small mouth bass, bass, white perch, chain pickerel, salmon, brook and lake trout, and other various species. The Penobscot River is considered to be one of the best smallmouth bass fisheries in the eastern United States. Mattanawcook Pond, Cold Stream Pond, Round Pond, Crooked Pond and other bodies of water in the region provide great opportunities to fish shallow waters, deep waters, stocked ponds, and everything in between. This region offers something for everyone. For more information and an in-depth description of fishing the area lakes, ponds, and streams, please visit:
Moosehead Lake Region – A glance at any map reveals a number of bodies of water ranging in size from Moosehead Lake to ponds covering only a few acres. Within these many lakes, ponds and streams, there are many popular species such as bass, perch, trout, salmon and togue. There is plenty of action for spin casters as well as for fly casters here in the Moosehead Lake region. Some waters are easily accessible by car, while others require some hiking and carrying.