Hiking Trails & Rock Climbing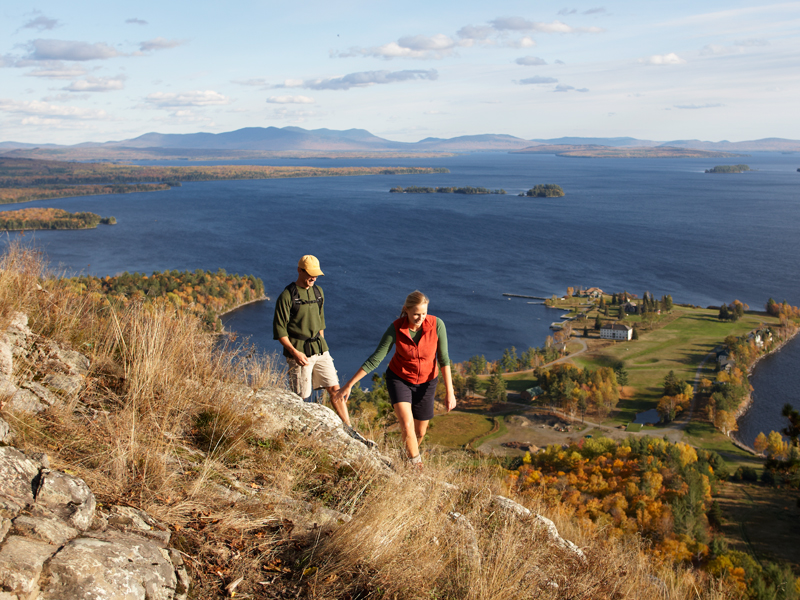 People from across the country hike their way into and through The Maine Highlands each year. Mount Katahdin, the highest peak in Maine, is the terminus for the Appalachian Trail. To get there you'll hike through the 100 Mile Wilderness, which is considered by many to be the most remote and inaccessible section of the entire Appalachian Trail.
There are countless trails for hikers of all levels in The Maine Highlands. Whether you want to climb mountains or traverse forests on beautifully groomed trails, we've got what your inner adventurer is seeking.
Moosehead Lake Region
Conquer the Moosehead Pinnacle Pursuit and summit 6 mountains in the Greenville area. Hop aboard the ferry in Rockwood over to Mount Kineo for stunning 360-degree views of Maine's largest lake. Elephant Mountain is another historic hike that ends at the crash site of a B-52 aircraft, parts of which remain on the mountain today.
Southern Piscataquis Region
Tucked inside of the Katahdin Iron Works Forest is Gulf Hagas, a heavily wooded gorge with numerous waterfalls and swimming holes. Hop on the Lagrange Rail-Trail is part of the old Bangor & Aroostook Railroad. It's just over 11 miles long and shaded by tree canopy. There are plenty of scenic views as the trail winds around several picturesque ponds.
Katahdin Region
This region is home to Mount Katahdin, Baxter State Park, and the Katahdin Woods and Waters National Monument. Trails abound in this region!
Greater Bangor Region
You won't find challenging vertical climbs around Bangor, but you will find pristine trails that can be used all year long. The Bangor City Forest and Orono Bog Boardwalk offer fun and easy trails anyone can enjoy. There are also more than 15 miles of recreational trails at the University of Maine in Orono. The nearby Hirundo Wildlife Refuge offers trails as well as an excellent opportunity to spot wildlife.
Sebasticook Valley Region
The Four Seasons Adventure Trail is a 26-mile long trail from Newport to Dover-Foxcroft. The rail-trail links five towns, two rivers, three lakes, and a range of pristine landscapes.