All-Season Lakes & Mountain Resorts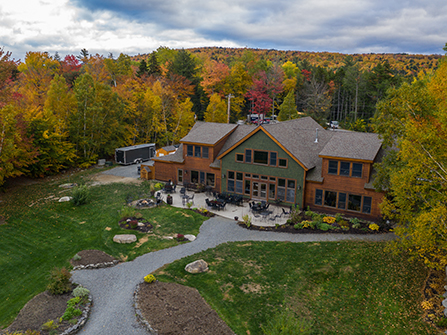 Rolling mountain views, lakeside locations, four-diamond dining, and first class amenities—The Maine Highland's resorts are uncompromising in their comfort and hospitality. A popular choice for a family vacation retreat or romantic getaway, resorts offer something more than a beautiful hotel: they typically include dining, entertainment, and recreation opportunities as part of visitors' stay. Enjoy trailside hiking or a luxury spa—the memories of a resort vacation will last all year.
Find the perfect vacation resort in The Maine Highlands. All-inclusive vacations and family getaway packages are available at many resorts.
The Maine Highland's world-class resorts deliver when relaxation is the objective. Because of the state's unique advantages, Maine resorts cater to recreation and luxury like no other area in the world. At lakes and trails, in the North Woods or on the golf links, first-rate comfort and amenities await.
Where else can you tour the wilderness in a luxury pontoon boat? In The Maine Highlands, we take recreation to new heights. But enjoying the rugged terrain doesn't have to mean roughing it. Whether it's an overnight, a multi-day Maine white water rafting trip, or kayaking with the family followed by rock climbing, outdoor adventure resorts allow visitors to nurture an adventurous spirit.
Relaxation, recreation and delicious home-cooked meals are the pillars of traditional sporting camps. Sporting camps are lake, pond or riverfront properties with a main lodge and individual guest cabins. Most provide guided, fully outfitted fishing, hunting, canoeing or moose watching trips. With three meals served each day, a sporting camp is an economical choice for individuals or families planning a multi-day trip.