2021-03-04
Did You Know About Orono Land Trust Trails?
Did You Know About Orono Land Trust Trails?
You may know it as a university town, but Orono, Maine is an active community for recreation. As of 2018, according to the town website, the Town of Orono had approximately 50 miles of trails on more than 2,500 acres of public and private land open to the public. The town is named for Chief Orono, a Penobscot leader who aided the colonist settlers in the Revolutionary War.
The Orono Land Trust (OLT) has been working for almost 35 years to conserve habitat and build trails in the greater Bangor area. OLT states: "Our mission is to protect, manage, and preserve portions of the natural environment in Orono and surrounding communities, for the benefit and enjoyment of present and future generations."
The OLT owns or stewards about 3,000 acres, conserving these properties for habitat and public use. Visit the land trust for walking, skiing, snowshoeing, skating, biking, and other recreational opportunities. Not all trails are open four seasons. There can be closures at sensitive nesting sites, and consult local websites for hunting season. No motorized vehicles are allowed.
The efforts and successes of the Orono Land Trust are due to dedicated volunteers, and collaborations with the Bangor Land Trust and other entities. Area maps are available in print and online, and are posted on kiosks at trailheads. Parking is available at most sites, and trails are clearly marked.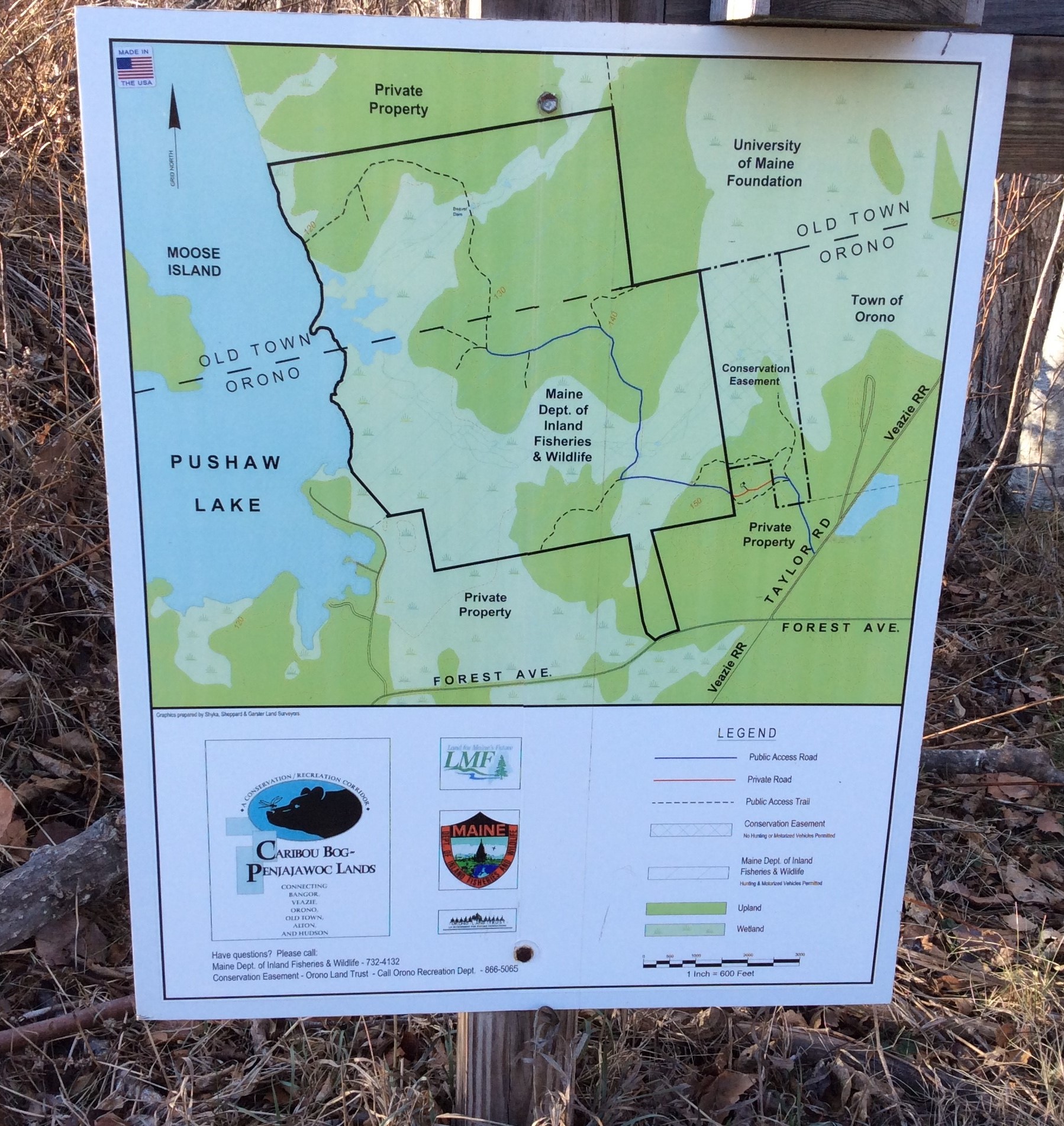 You don't have to go far to see wildlife or immerse in nature. For example, at Taylor Road (off Forest Avenue), you can see the results of a recent OLT wetlands restoration project that attracts migrating waterfowl. The old bait pond now hosts turtles, heron, and songbirds. Trails radiate from this hub for birding and hikes.
In winter, the well-marked Caribou Bog Ski area has groomed trails that wind through diverse habitats. The Penobscot Valley Ski Club and OLT hold an annual ski race for all ages. Try the ice-skating Six Pond Challenge– Little Pine, Black, Boulder, Heron, Beaver and Big Pine ponds, all connected along the historic Veazie Railroad trail. OLT also monitors the Stillwater River Trail, a pleasant waterside stroll that reaches into a downtown area.
The old Veazie Railroad is a maintained trail that runs south from Old Town towards the the Bangor City Forest. The Veazie Railroad was one of the first commercial railways in the United States. Hike, bike or ski on a raised path through a landscape of marsh and woodlands. The old railway was also the route for the Niben Bicycling Club, started in 1897. Stop and take a break at the Niben viewing deck (built in 2020 by OLT volunteers) for selfies and sightings of heron, beaver and pond life.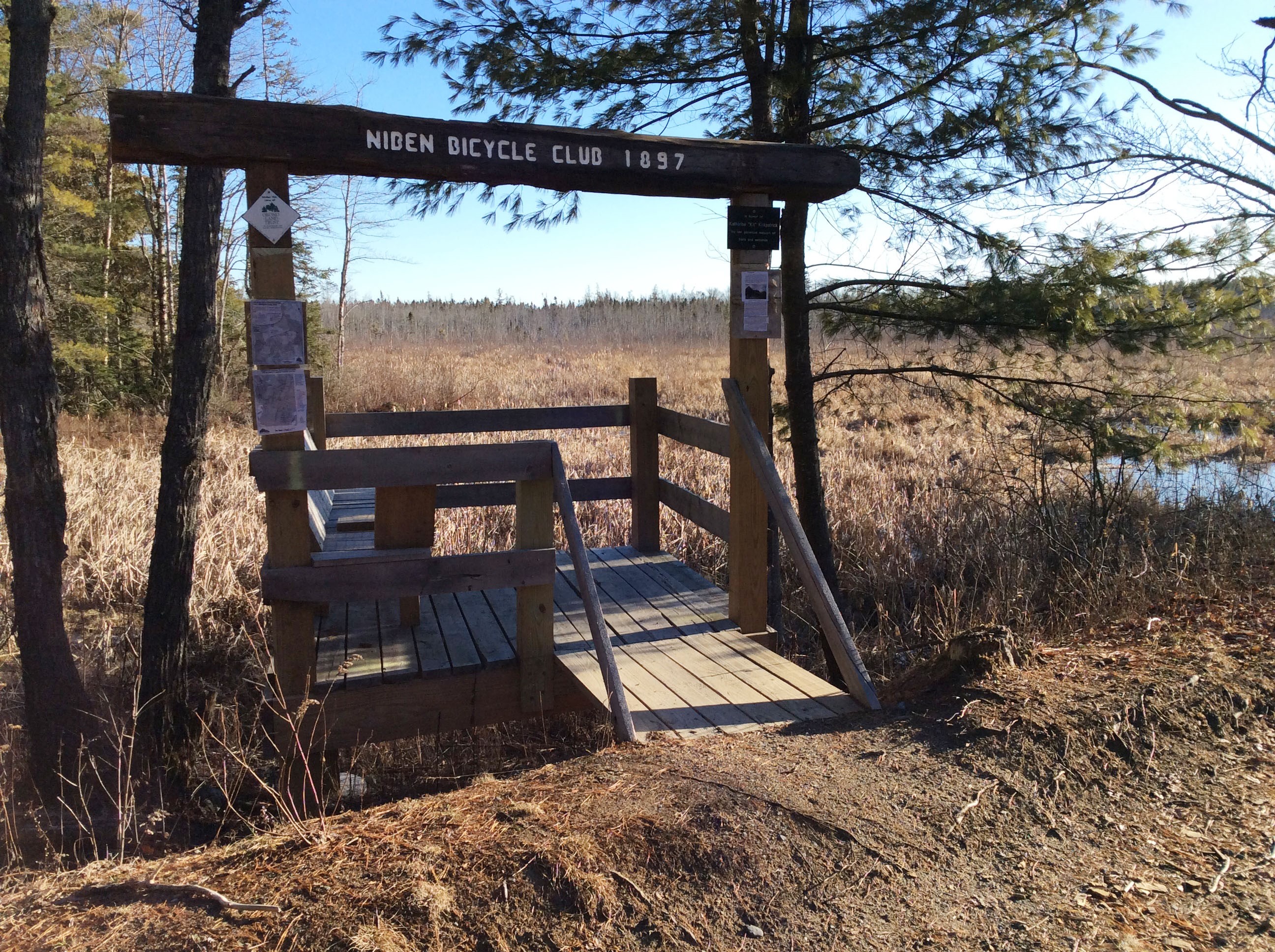 Trails are also available next door in the Town of Veazie. The Manter Wood is privately owned and managed by OLT/Veazie Land Committee via a conservation easement. The Wood connects with McPhetres Farm Forest and Davis Trail properties. There is a nice picnic table and kiosk at the Davis Drive trailhead. Buck Hill is a good X-C ski destination; trails wind through forest and fields.
A joint venture of OLT, the University of Maine, and the City of Bangor, the Orono Bog Boardwalk is a must-see site for a truly unique habitat. Migrating birds and unusual flora can be seen and there are handy kiosks with information on the natural history of the Bog. Accessed from the Bangor City Forest at Tripp Drive, (off Stillwater Avenue), this 1-mile boardwalk loop is wheelchair-friendly. (As of this writing, the Boardwalk is closed as it does not afford distancing necessary for Covid-19 safety.) This gem is worthy of your Maine Highlands bucket list!
For more information: oronolandtrust.org, Orono Bog Boardwalk, mainetrailfinder.com.
Article and photos by Linda Swackhamer, proud member of the Orono Land Trust.