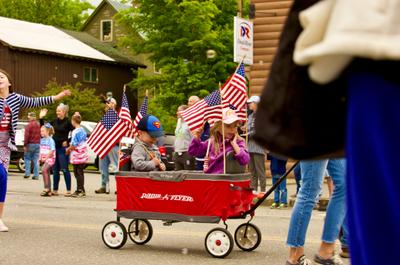 Visitors will enjoy Non-Profit Vendors with food, live entertainment, games, demonstrations and more - including Rangeley's Great American Dog Parade - all in the splendor of the picturesque lakeside park. The Chamber's online auction will be ongoing (July 2nd - July 4th)
On Monday July 3rd, the park will come to life with activities, food and entertainment for all ages, all provided by our area nonprofit organizations. This will be a true family day packed with fun. Festivities begin at 10:00 AM with the Children's Doll Carriage Parade on Main Street and the Duck Race on Haley Pond, and go out with a bang as the fireworks get underway at dusk.
Schedule:
10:00 AM: Doll Carriage Parade starts at Rangeley Inn & Tavern and ends at The Town Park. Awards given.
11:00 AM to 1:00 PM: Hymn For Her: Injecting juiced-up backwoods country blues with a dose of desert rock psychedelia that has been described as "Hell's Angels meets the Amish," and "Hillbillies with electronics opening Pandora's Box" https://hymnforher.com/
1:00 PM: Dog Parade
2:00 PM to 4:00 PM: Sandy River Ramblers: The Sandy River Ramblers are one of Maine's premier bluegrass bands and the longest-running bluegrass band in Maine's musical history. 2023 will mark the band's 40th year. Sandy River Ramblers - YouTube
6:00 PM to Fireworks: Invite the Wild - An energetic rock band that blurs genres (7) Invite The Wild | Wilton ME | Facebook